LED Louver Screen
LED louver is a new design for outdoor glasswall and mesh ,high transparency, high brightness,ultra light weigh,flexible control.it is the first choice for the indoor and outdoor display
Brief Introduction
As a kind of modern electronic media, with flexible display area, long life, high capacity, digitization, real-time characteristics, LED grille screen has become an important part of the indoor and outdoor advertising media market. LED grille screen has the features of high brightness, bright color, cost-effective, attractive, with built-in power supply and receiver card, each unit can work independently, which is very suitable for large-scale outdoor advertising projects.
Features
1. High transparency
The light bar width is less than 8mm, so that its transparency is up to 50%, it could be installed inside or outside of glass wall, do not affect indoor brightness. If installed it on the roof, can reduce the wind resistance effectively.
2. High brightness
Adopts SMD3535 with good color uniformity, brightness up to above 5500CD per sqm., completely meet requirements of daytime display.
3. Easy maintenance
This LED light bars can be maintained from both front and rear that can choose different maintenance method according to different application sites. For example, you can choose front maintain if installed before facade of building, also can choose rear maintenance if installed behind glass wall.
4. Easy control
Adopting parallel transmission, each light bar can work independently, do not effect other light bars work. Light bar can be customized to meet any different requirements.
5. High level protection
IP66, it is suitable for indoor or outdoor application. It use aircraft aluminum extrusion, the surface is treated with special environmentally-friendly dichromate solution, with good cooling and anti-corrosion function.
6. Light weight
The weight is less than 18kg per square meter, easy to transport, and easy to control labor and delivery cost.
Specifications
Adopt good quality aluminum for the body,two times glue sealing treatments.
Connector plated by gold, lowest electric resistance, high antioxidant ability.
High ability of water proof and air corrosion, the adaptability of high temperature is strong.
Fixed by stainless screw with beautiful appearance and ,rust proof.
Application
Flexible and soft led display screen, suitable for indoor and outdoor application
Safety Reminder
| | |
| --- | --- |
| Pixel | P25-50 |
| Pixel Density | DIP:2400PCS/㎡,SMD:800PCS/㎡ |
| Pixel per tile | 48*10 |
| Configuration | SMD or DIP |
| Brightness | 3600(RGB) or 7200cd/sqm(2R2G2B) |
| View angle | H120°/V120° |
| Transparency | 72% |
| Tile dimension | 1200*535*90mm |
| Tile weight | 15kg/sqm |
| Protective Level | IP67 |
| Scan | static |
| Refresh Reate | >2000Hz |
| Max Power per tile | 245w/85w |
| Control Mode | PC or SD card |
| Strip Orientation | Horizontal or Vertical |
| Installation | Hanging by steel,frame method |
| Life span | ≥100,000h |
| Temp/Hum | -20℃--45℃,10%--90%RH |
LEDs Protection Measures
The LEDs we used is high quality water-proof brand products, it is encapsulated in silicon resin. The brand-guaranteed purchase channel make sure the resource of LEDs. In making process, we use special grain PC cover to make sure the LEDs to avoid the physical scratching.
We use three steps to make sure the LEDs to avoid physical hurting as below.
1. Fixed LEDs into the PCB, then welding the PCB into the drive board.
2. Put the welded parts into the aluminum groove, then process glue filling.
3. Press the PC cover into the surface of products.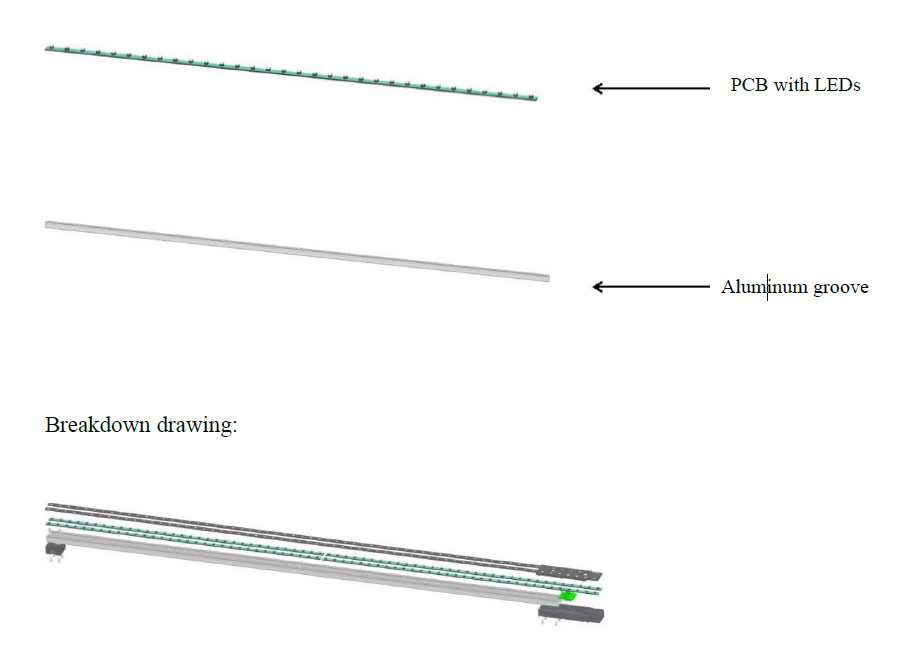 Installation Diagram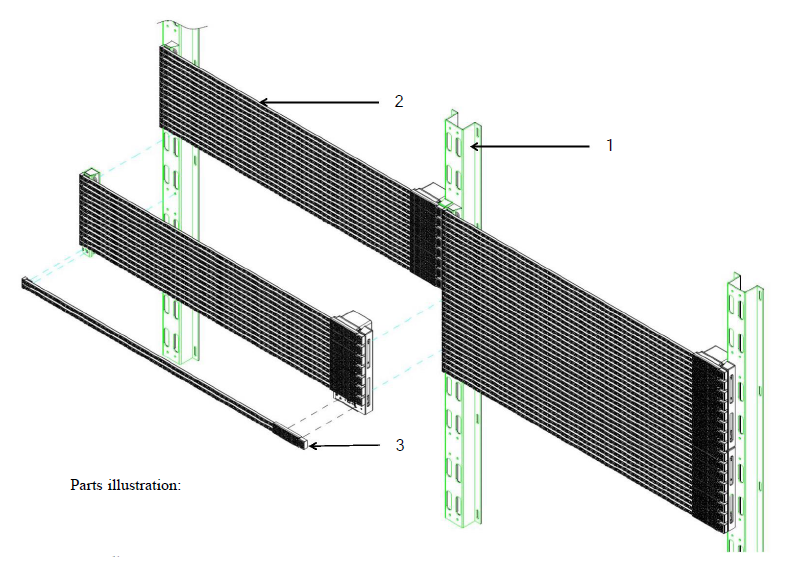 Parts illustration:
1. The vertical metal beam for installation
2. P25 Grille screen Unit(H:1200mm*W:535mm)
1. Fixed the vertical metal beam on the wall or the ground;
2. Put the P25 grille screen unit into the vertical metal beam in turn;
3. Connect the cables and controller system, complete the testing